All our professionals maintain the highest levels of accreditation and pursue ongoing education to stay abreast of the latest trends in the medical field. Read on to learn more about our staff's experience and training.

Neethi R. Patel, DO, FAAP
I was born into a medical family and felt not only destined to be a physician, but a pediatrician. To me, there is no greater joy than connecting with children and their families and watching them grow up. As a graduate of Kirksville College of Osteopathic medicine, I learned how to view the big picture to care for people and how to integrate this with my medical knowledge to come up with the best answer for each patient. I have been practicing pediatric medicine since 2007 and was lucky enough to practice alongside my father and mentor for 15 years at Shelby Pediatric Associates. And now I am excited to venture off on my own.

I am married and have two teenage children who have been amongst my greatest teachers. Through parenting, I quickly discovered that kids don't always follow the "rules" I learned in my medical textbooks and I believe this helps me be a better pediatrician.
In my free time, I enjoy playing tennis, reading a good book and spending time with my amazing friends and family.
I am a graduate of Michigan State University College of Osteopathic Medicine in 2012, and of the Pediatric Residency Program at Children's Hospital of Michigan in 2015.
I am a Michigan native who grew up competitively figure skating, and still enjoy skating and competing to this day. I also am a former member of the US International Figure Skating team. I enjoy ballroom dancing and spending time with my husband John and our two furry children, Luna and Champ. We especially enjoy outdoor activities like hiking, kayaking and bike riding.
I have an extra interest in Osteopathic Manual Medicine and using it to help infants with colic, reflux, torticollis and sleep concerns. I also am especially enthusiastic about caring for our young athletes, since I have lots of personal experience to be able to relate to the physical, mental and emotional challenges that come along with being an athlete. I look forward to meeting you!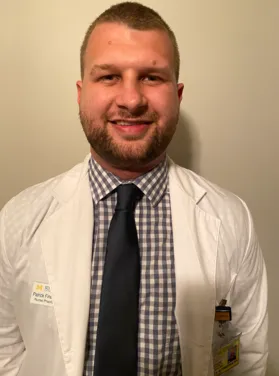 Patrick Finegan, DNP, RN, CPNP
I am a recent graduate of the University of Michigan, Doctor of Nursing Practice in Pediatrics. I have worked with children and their families as a pediatric nurse since 2017. I spent 3 years as a Pediatric ICU nurse and currently still work contingently at Royal Oak Beaumont on the Pediatric Unit. I'm excited to start a new chapter in my life and career as a Pediatric Nurse Practitioner with my mentor, and all the wonderful staff and patients at Kidology Pediatrics.
I married my high school sweetheart, Toni, in October of 2016. In February of 2022, we welcomed our first child; a beautiful little girl named Mackenzie. We have three crazy dogs and love to stay busy spending time with friends and family. In my free time, I enjoy watching and playing all sports, especially basketball. I also love listening to and playing music; I currently play the drums and guitar.
Melissa McClanahan
After being a stay at home mom for 11 years with my two children, it was time to jump into the workforce. When my son was diagnosed with Type 1 diabetes at the age of 6, I knew pediatrics was the place for me. I enrolled at Carnegie Institute and became a Certified Medical Assistant. My first job was at a pediatric office. I was thrilled! Working part time and being a full time mom of two kids in sports and music lessons, my days were full. My children are now grown and are following their own dreams. 14 years later, my husband and I are keeping busy with travel, friends, and our golden retriever Molly, and our new fur-baby Cooper.

We are all incredibly grateful to be a part of the Kidology team and are looking forward to watching this practice grow, one handprint at a time.
Misty Garnand
I graduated with honors and at the top of my class from Dorsey in 2013 for certified medical assistant. I have worked in pediatrics now for over 4 years. Working with children is something that comes very natural to me because I have 3 children of my own. My eldest is attending U of M for her bachelors degree in midwifery. Go Blue! My 2 youngest like to keep me on my toes!

We enjoy the outdoors, especially when it comes to water. Pools, lakes, and rivers are where my 2 youngest want to be at all times. They are part fish!
Kayla Dungan
I graduated from Carnegie Institute in 2016 to become a medical assistant and have been in pediatrics since I started! One of my favorite things about being in pediatrics is seeing the kids grow up and being able to bring some joy to the families each time they come in. I have lived many places in my life while growing up, and my family is spread out across the United States. I enjoy spending time with my children, family and friends. We love to cook, play board games, snuggle up with a good movie and some snacks, and find a good park to let off some energy. I recently got married in November, 2022!
MariJo (MJ) Rabideau
I trained to be a medical assistant through Utica School District and I have been working as an MA since 2016. I enjoy working with children because they make me laugh and smile. I am the mother of a teenage boy, and because of that I can relate to all of our parents working through the "teen years". I am a huge animal lover, and currently have 3 dogs and 2 cats who keep me sane while I am at home. I love to camp, and do various crafting activities, and also spend time with my very large family. I have 9 nieces and nephews who are always active and enjoyable to be around.
Linda Malak
I am a mom of three grown children and two grandchildren. After having been a stay-at-home mom, I decided to go back to school to take some courses in the medical field. I found a job in physical therapy and worked in the field for fifteen years. After many years, I decided I was ready for a change and wanted to go where my heart always led me and that is with children. So here I am at Kidology and love my job greeting, caring and helping parents with their most prized possessions.
In my spare time, besides working on decorating projects around the house, I love watching my two beautiful grandsons, spending time with my husband of 39 years, my children and our two dogs and cat Maci, Abby and Bella.
Kara Hannaford
More info coming soon!
Cooper McClanahan
Meet the youngest member of the Kidology team!!!
Cooper will be trained as a certified therapy dog to help your children feel comfortable during their office visits when requested. He is currently starting his training with "puppy class", but will soon be ready to comfort all our patients and staff during their office visits.
His current passions are chasing his big sister Molly, eating, and napping.
He can't wait to snuggle up with you and give you kisses!
Dr. MacPherson is the green handprint, Dr. Patel is the pink handprint and Patrick is the teal blue handprint!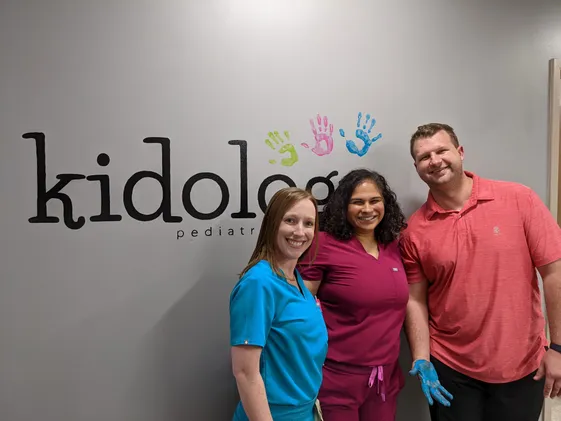 Cooper needs to leave his print on our wall too!
Our first halloween together. It's one of our favorite times to celebrate in the office, and the kids LOVE seeing us all dressed up!
Our ONE year anniversary party! CHEERS!
WE CAN'T WAIT TO MEET YOU!